---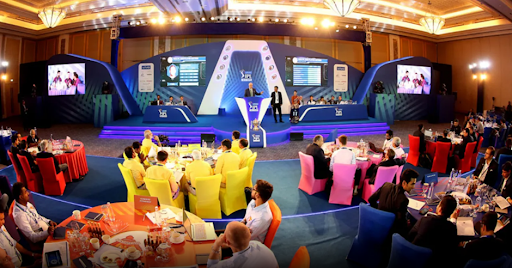 Indian Premier League, or IPL, has taken on the status of the country's official major event. In 2008, the first IPL auction transformed Indian cricket forever. Since then, the league's international and Indian players have been subject to an annual auction that determines their fate.

The auction's unpredictability adds to its excitement as some unknown domestic star secures a multi-million dollar deal while several well-known, experienced foreign performers remain unsold.

Every year, the BCCI holds the IPL auction to auction off cricket players to various franchises. The multi-day auction is overseen by a skilled auctioneer. IPL teams made aggressive offers for the players on the list. Every IPL team has a defined roster after the auction.

Even though the auction process only lasts a few days, a lot of work is done months in advance. The pre-auction analysis is finished, and teams start planning their approach for the auction. When a franchise decides to make a bid for a player, everything is taken into account, including the remaining budget, the type of player required, the player's international commitment, injury history, and his relationship with the coach.

How Does the IPL Auction Work?
IPL spectators are accustomed to seeing team owners, managers, coaches, and occasionally analysts seated at designated tables during the multi-day IPL auction that airs live on television.

According to the IPL's rules and regulations for the construction of the squads, players from the common pool are sold at auction to the highest bidder.

Regarding players joining or leaving the squad, a lot happens prior to the auction and continues after it as well. The core of the action, meanwhile, takes place during the auction.

Some teams triumph after a heated battle that lasted many days, but other teams are left to reflect on some of the choices they made throughout the auction. So how does it turn out? Let's begin with the finances.

How Much Budget Does Each Team get?
For the purpose of putting up a squad of native and overseas players from India and other countries, each franchise in the IPL receives a budget of INR 80 crore (capped, uncapped, or the players from associate nations).

An IPL team is not required to use the entire purse; however, under the most recent regulations, they are required to spend INR 60 Crore, or 75%, of the purse. Of course, franchises are free to spend as close to INR 80 crore as they choose. CSK currently has INR 79.85 Crore remaining in its budget after paying the salaries of their players.

The players and resources that the teams keep in mind when developing their plan. The necessity for franchises to maintain some cash on hand for use when necessary has frequently been demonstrated.

Kings XI Punjab was left with the most money (INR 42.70 Crore) in the pot at the most recent IPL auction, which took place in December 2019. They were able to place high bids on top players like Glenn Maxwell and Sheldon Cottrell and eventually succeeded in acquiring them. King XI Punjab had the most money in the bank at the end of the auction—INR 16.5 Crore.

What are the Different Categories of Players in the IPL Auctions?
Basically, there are 3 categories of players in any IPL team –

Capped Indian players
Uncapped Indian Players
Foreign or Overseas Players (Non-Indian Players)
Players with caps have essentially played at least once for the senior team of India in any version of the game.
Indian first-class cricketers who have never played for their country on the international stage are considered uncapped.
All non-Indian players belong under the category of foreign players, who can be either capped or uncapped players as well as players from other cricket-playing nations.
For these players, there is not a single distinction in the way the IPL auction is conducted. The Team Squad is the only place where the player-type matters. There can be a maximum of 8 foreign players on the team squad, but only 4 of them can be in the starting XI at any given time during the game.
What is the Player Base Price?
The starting bid for a player is determined by the player's Base Price, which is the lowest amount. No player may be bought or sold for less. It may come as a surprise to you to learn that players are free to choose their own base price as long as it is greater than INR 10 Lakh and less than INR 2 Crore. Uncapped Indian players often set base prices that are lower than those established by capped and foreign players, who often set rates that are closer to the ceiling.
Franchises hope to eventually profit from their investments in cricket players, both on and off the field. Therefore, before selecting their base price, Players must take a number of factors into account, including performance history, recent form, social media following, etc. Otherwise, they run the risk of setting it too low or too high.
Because the starting pricing was set excessively high in the past, many players went unsold.
Who are the Highest-Paid Players in the IPL?
In the IPL, player salaries may be anywhere between 10 lakh to 17 crore rupees.
The fact that most teams spend between 30 and 40 percent of their total budget on the top 5 players is the cause of the gap in pay. As a result, to fill the final few spots and meet the minimum squad requirement, they choose players with low base salaries, such as uncapped Indian players.
When he was retained by Royal Challengers Bangalore for a sizable sum of INR 17 Crore, Indian skipper Virat Kohli became the highest-paid player in IPL record.
With earnings of INR 16 Crore, explosive Indian left-hander Yuvraj Singh comes in second on the list. The third highest-paid player on the list, Pat Cummins, who was acquired for INR 15.5 Crore, is the most recent addition.
The legendary players of Indian cricket, MS Dhoni and Rohit Sharma, are now being held by Chennai Super Kings and Mumbai Indians, respectively, for INR 15 crore. Additionally, Rishabh Pant makes INR 15 Crore from the Delhi Daredevils.