---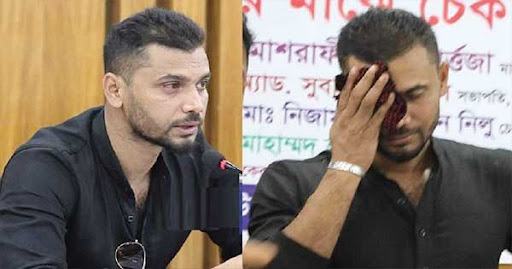 Does accident come by announcing? However, former Team Bangladesh captain Mashrafe bin Murtaza may never have thought that he would be injured in such a hurry. He had to go to the doctor several times due to injury, but this time Narail Express and MP Mashrafe were injured by a flying bird.

Mashrafe's personal assistant Mohammad Sunny told the media that Mashrafe was visiting development activities in different areas of Sadar upazila of Narail district on Monday afternoon. At that time, after reaching Maizpara of the upazila, while sitting on a motorcycle, a bird suddenly flew and hit Mashrafe's right eye.

"Mashrafe's eyes have swollen and become red. He has received medical treatment and is well. Mashrafe will return to his normal routine on Tuesday," Sunny said. Although Mashrafe did not say anything to the media about the incident, Mashrafe's brother Morsalin shared a picture of the injured Mashrafe on Facebook. In that picture, Mashrafe's father was seen giving medicine to Mashrafe's eyes. Morsalin wrote in the caption "Is caption needed? " In the comment section of the photo, many have wished Mashrafe to get well.

Besides cricket, the former Tigers captain has a passion for motorcycles. Whenever he gets time, he goes to ride his bike. After becoming a Member of Parliament, he has been seen on bikes many times observing people in his area. Mashrafe fans expect that the former captain of Team Bangladesh will soon recover from the injury.