Articles
---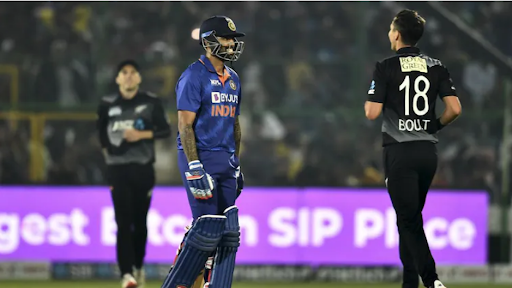 Suryakumar Yadav praised Virat Kohli for surrendering his batting slot in the T20 World Cup. The 31-year-old told the media after his team's success in a 5-wicket win over New Zealand at Ranchi.

After excelling in India's 5-wicket triumph against New Zealand, Suryakumar Yadav praised Virat Kohli, referring to the former T20I captain handing over his No. 3 place to allow Yadav to bat at that place in the squad's last T20 World Cup encounter against Namibia.

Yadav, obviously, made the most of his chances to bat at No. 3 in the unavailability of Kohli, who was rested for the three-match series. On Wednesday, Yadav achieved 62 from 40 balls helping the team defeat New Zealand by 5 wickets.

Yadav told the media that he is fairly adaptable when it comes to the batting order. He explained that he has batted in every position from opener to number seven and he is content with the fact that he can perform in any situation.

Yadav stated that when he had his batting debut against England, Kohli was the one who forfeited his spot thus he could bat at No. 3 while he batted at No. 4. He added this was the same scenario. Yadav explained that Kohli asked if he wanted to go in so he could gain some World Cup game experience and it was quite thoughtful of Kohli and he appreciated his offer.

The batter also commented that he has been batting at No. 3 for my organization (in the IPL) for the past three years, so there was nothing new. He added that he makes no attempt to be different and he just tries to be himself and enjoy the arrangement.

Venkatesh Iyer will shortly be spotted bowling on the field, according to Yadav. He commented that he has been observing him bowl a lot with Paras [Mhambrey] before batting and he has put in a lot of effort in this season. Iyer was also seen having conversations with Rohit Sharma.

Yadav also said that he didn't think Iyer needed to bowl since Rohit used all of his bowlers effectively, and we will definitely see him bowl in the upcoming matches.